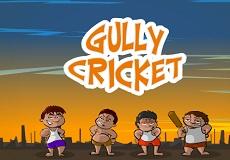 The game of gully cricket, a distinctive localized adaptation of cricket, has been gaining traction and popularity across the nation, particularly in the rural outskirts and remote regions. This freely accessible online cricket game encompasses three exciting levels, each one promising an engaging and fun-filled experience.
As you embark on the first level of this cutting-edge flash game, your objective is to amass a score of 30 runs within the confines of three overs. Armed with 10 wickets, you will need to demonstrate patience and excellent batting prowess to achieve this target. Upon completing this initial challenge, prepare yourself to advance to the more demanding level, aptly named the 'School Champion' level. Here, your task is to secure 40 runs within the span of three overs.
The final challenge, referred to as the 'College Level,' sees the bar raised even further, requiring you to score an impressive 50 runs within the same three overs. Your cricketing skill and strategy are pushed to their limits here.
Elevate yourself to the status of a 'Super Hitter' by consecutively smashing three boundaries! Further impress your adversaries by hitting two successive sixes right after that. Your rivals, feeling the pressure, will attempt to destabilize your focus. Overcome their tactics, flaunt your exceptional batting skills, and strive to establish your reputation as one of the finest cricket players.
An additional reward awaits you if your shot reaches the public: a whopping 100 points that could swing the game in your favor in this captivating online sports game