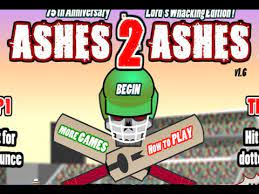 In Ashes 2 Ashes: Zombie Cricket, you will find yourself pitted against hordes of brain-craving zombies, a far cry from the usual Aussie Ashes cricket team you'd expect to be up against. This is the moment to harness your batting prowess for an entirely different kind of match – a deadly game of Zombie Cricket.
The gameplay mechanics are simple but thrilling. Use the left mouse button to command your bat, striking down the encroaching zombies. To optimize your hits, aim to strike on the bounce, and for maximum damage, hit closer to the sweet spot. Your mission? Annihilate the zombies before they get a chance to devour you! Reduce them to nothing but ashes!
As you progress, each level ratchets up the difficulty, unleashing zombies that are stronger and faster. However, there's no need for despair – you'll be given opportunities to enhance your weapon and boost your batting speed. So gear up for an exhilarating fusion of cricket and zombie apocalypse in this extraordinary flash game, Ashes 2 Ashes: Zombie Cricket. Best of luck in your zombie-slaying endeavor!