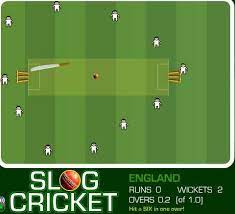 Experience the thrill of "Slog Cricket," a captivating online game that's free to play! Immerse yourself in this exciting cricket adventure and take on the challenge of scoring as many runs as possible within the limited overs.
With 10 thrilling overs at your disposal, it's time to showcase your batting prowess and slog that ball all around the ground! Step up to the crease and embark on an unforgettable cricketing journey in the year 2013.
Are you ready to conquer the field and set new records in this adrenaline-pumping cricket game? Let the slogging begin!