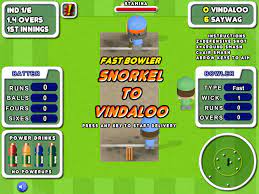 Unleash your batting prowess on the cricket field with "Smashtastic Cricket" – an exhilarating online game that promises action-packed thrills! Prepare to dominate the game with your powerful shots and lead your team to glorious victory. This game takes cricket gaming to new heights, boasting intuitive controls, realistic gameplay, and an impressive array of features.
Challenge yourself against formidable opponents from all corners of the globe in a variety of game modes. Engage in quick matches for some casual fun, participate in thrilling tournaments, or dive into intense multiplayer battles to prove your mettle.
Select your favorite team, personalize your player's appearance, and embark on a cricketing journey like never before. Get ready for an unmatched cricket experience that seamlessly blends excitement, strategy, and skill.
Whether you're seeking a quick and enjoyable pastime or craving an adrenaline-pumping multiplayer showdown, "Smashtastic Cricket" guarantees endless hours of entertainment. Embrace the challenge, showcase your batting prowess, and ascend to the pinnacle of cricket greatness as the ultimate champion in this sensational game of cricket. The virtual cricket world awaits your skill and determination – let the smashing action begin!