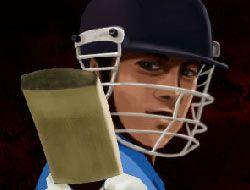 The realm of online cricket games offers an array of opportunities for cricket enthusiasts. Among the vast selection available on the internet, Hit and Run stands out as a fan favorite, gaining increasing traction among both kids and adults. The emergence of 20-20 games has drawn cricket game lovers towards this condensed format of cricket. Consequently, Hit and Run has become a household name among gamers. This free online cricket game provides you an opportunity to delve into batting and scoring runs in the shortest timeframe.
Hit and Run introduces a strategic batting scenario in this new cricket game. You can opt for either of the two modes – the Challenger mode or the Survival mode. In both these modes, you are allotted five overs or 30 balls, where your goal is to accumulate as many points as possible to secure your victory in this thrilling flash game. To be a formidable player or to win the game, your target should be to score over 50 points.
The Challenger mode features a knock out format that's sure to elevate your online cricket gaming experience. Here, your goal is to compete in a tournament against five other international teams. Your task is to triumph over each team sequentially to secure your spot in the final round where you face off against another potent adversary. If you bat first, strive to set a high target for the opponent. Alternatively, if you bat second, prepare yourself to chase down the target set by your opponent.