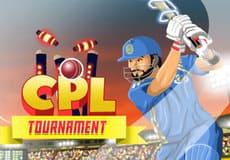 Immerse yourself in the riveting world of CPL Cricket Tournament and seize the opportunity to envision yourself as the ultimate cricket champion. Kick-start your cricket adventure by selecting your desired team and settling on the match format that suits you best, with options including 2, 5, and 10 overs!
This immersive 3D CPL cricket game promises to captivate your attention for hours on end, particularly if you've always harbored dreams of guiding a cricket team to the pinnacle of victory. The tournament has attracted several elite teams from the Caribbean, giving you a vast selection to choose from, including Mumbai, Kolkata, Bangalore, Chennai, Punjab, Delhi, Rajasthan, and Hyderabad. So why wait? Step up to the crease and play online, completely free of charge!
Prepare to harness your finest cricketing skills and pave your way to the quarterfinals by claiming victory in at least four matches! Strive to meet your target in a set number of balls in each match, showcasing your cricketing prowess along the way.
Unleash your powerful shots and ascend the ranks in your pursuit of victory! Execute your shots by a simple tap on the screen, and remember to disperse the ball across various sectors of the ground to accumulate more points in this engaging mobile html5 cricket game. React swiftly, or risk the ball reaching your stumps and ending your stint in the game! We wish you the best of luck as you hone your cricketing skills in the most conducive environment possible in our exhilarating CPL online cricket games, with no downloads required!