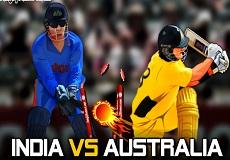 Are you prepared for a cricket match tournament that promises thrilling excitement and entertainment? Don't miss the fantastic chance to participate in the India Vs Australia game. This online cricket game offers a riveting challenge as you'll be pitted against one of the major cricketing nations – Australia in a range of gripping tournaments. Here, India and Australia are represented as fiercely competitive cricketing adversaries. Choose your allegiance between the two teams – India and Australia. Select the challenge you'd like to tackle, invite the umpire for a toss, and gear up to dive into the real fun!
This online game offers you an opportunity to demonstrate your prowess in batting and bowling in a fast-paced five overs match, replicating the electrifying atmosphere typically found in T20 matches. After the toss, you must decide whether to bat or bowl first. As a batsman, you have the liberty to navigate around the cricket pitch. Use the left and right arrow keys to execute your shots on the field in this fresh online sports game. Press 'A' for a smooth shot and 'S' for a power shot. Concurrently, press the space bar key to prompt the bowler to bowl in this delightful game.
Effective play in this online cricket game relies on perfect timing when using the arrow keys in combination with the 'A' and 'S' keys. Maintain your patience and play with confidence to maximize fun in this five-over cricket game. It's hoped that you'll outperform your opponent in all the provided challenges and bring the tournament trophy home in this top-notch online game.