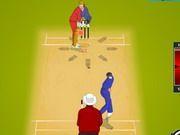 Authentic IPL Experience: Dive into the IPL Cricket Ultimate universe with lifelike graphics, exact team logos, player names, and official IPL attire. Join the league's most prominent stars and soak in the electrifying ambiance of the IPL matches.
Smooth Gameplay: Brace yourself for fervent cricket action as you bat, bowl, and field your way to triumph. Put your timing, accuracy, and game plan to the test as you confront formidable opponents, aiming to amass significant runs or secure crucial wickets. Can you withstand the stress and rise to become the ultimate IPL victor?
Diverse Overs and Teams: IPL Cricket Ultimate provides a selection of overs and teams. Choose from options of 5, 10, or 20 overs and from 9 exciting IPL teams. After you've decided on your preferred over and team, prepare to showcase your top shots, aiming to lead your chosen team to victory each time.
With its engrossing gameplay, genuine IPL ambiance, and choice of 9 teams, IPL Cricket Ultimate flash game is a must-try for cricket aficionados. Whether you're a devoted fan or a newcomer to the sport, this exciting IPL cricket game offers a chance to experience the rush and exhilaration of IPL cricket from the coziness of your home. So, pick up your bat, tie up your laces, and get set to make an impression on the IPL platform!