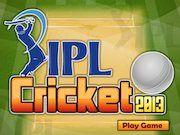 IPL Cricket 2013 is a highly engaging flash game boasting of a thrilling Twenty20 format, featuring intense gameplay and diverse game modes.
Dive into the lifelike 20-20 cricket game, persist in securing victories in 2-over matches until you clinch the trophy of the 2013 season!
Key Features:
Genuine IPL Experience: Submerge yourself in the IPL Cricket realm as you select from your preferred teams and compete against other famed franchises. Engage with actual players from the 2013 season and savour the authenticity of the league, adorned with exact team logos, player names, and uniforms.
Dynamic Gameplay: Brace yourself for a cricketing adventure that gets your pulse racing as you participate in exciting T20 matches. The batting and bowling mechanisms are crafted to offer a realistic experience, enabling you to plan your shots, perfect your deliveries, and outwit the opposition. Can you amass considerable runs or secure pivotal wickets to tip the game in your team's favour?
Variety of Teams: IPL Cricket 2013 provides an array of teams for gameplay. Evaluate your skills in quick matches involving different teams including Chennai Super Stars, Hyderabad Chargers, and Kolkata Blasters throughout the full IPL season. With a range of teams to pick from, you can customize your gameplay experience according to your liking and indulge in hours of cricketing delight.
Whether you're a cricket enthusiast or a leisure gamer, IPL Cricket 2013 is guaranteed to offer an immersive and exhilarating cricketing experience. So, pick up your bat, fasten your bowling shoes, and get set to flaunt your skills on the grand IPL platform!