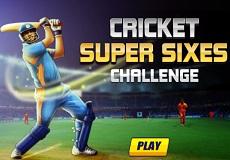 If you're an avid cricket enthusiast like many others, then the Cricket Super Sixes Challenge may be the perfect solution to your online gaming cravings. This immersive online cricket game offers an exhilarating experience, allowing you to master the art of being a power hitter in high-stakes cricket leagues. The game challenges you to demonstrate both your patience and skill, demanding strategic gameplay to achieve the objectives.
In the initial level of this multi-tiered flash cricket game, you're tasked with making at least 15 runs without losing your wickets. This stage of the game grants you three lives to achieve this target. To successfully complete this level, you need to hit a six – anything less, or the loss of a wicket, will result in the depletion of your lives, ultimately leading to a game over.
Fear not if your first attempts are unsuccessful. The game provides ample opportunities to reach your target, and persistence often yields results. To start the Cricket Super Sixes Challenge, use the space bar, then utilize the arrow keys to dictate the direction of your shots. The early levels present relatively modest targets, whereas the later stages require substantial scores to progress. With determination and skill, hit the ball hard and progress through the levels with confidence in this engaging and free online cricket game!