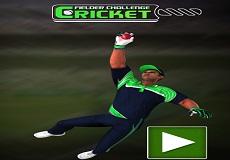 Cricket Fielder Challenge is an engaging, complimentary online cricket game designed to put your fielding abilities to the ultimate test. This immersive gaming experience is ideally suited for all cricket enthusiasts who revel in the thrill of fielding just as much as they do in watching the stellar performances of cricket legends wielding the bat or delivering astonishing balls.
Maintaining a positive mindset is vital in successfully navigating through all levels of this up-to-date online cricket gaming version. As a player, you assume the role of a wicket-keeper, an indispensable component of the team. Your mission is to support your team towards a resounding victory by seizing as many shots as possible with your gloves.
Three unique opportunities will be presented to you to catch the opposing player's shots. Be aware, the frequency of missed catches directly impacts your team's likelihood of losing the match. Your glove's movement can be easily controlled using your mouse.
Stay laser-focused on the batsman's shots, and remain vigilant throughout the game. This, among the finest online cricket games, can be enjoyed right in your preferred browser. By concentrating on the batsman's strokes, you'll be able to capture the ball within your glove swiftly, thereby prompting the batsman's return to the pavilion.
Cricket Fielder Challenge comes packed with high-quality features, including cutting-edge graphics and impressive audio-visual effects, which all serve to enhance the overall gaming experience.