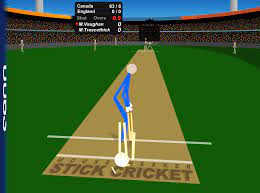 Stick Cricket is a flash game where you are set batting challenges where you must score a certain number of runs inside 10 overs to go to the next stage.
We have given the cheats codes for those who like cheating (not us of course!) or are returning to a stage of their choice.
You can also use some of the codes below to master your skills at the different types of bowling.
GAME TIP : What out for bouncers in this game as the levels get harder. They best way to deal with those balls is to hook them using the the left arrow key! Trust me you will thank me for that tip !!
Cheats
These are the passwords for first 11 levels.
11.tilly
10.meggiemoo
9.sniffer
8.weegordon
7.kingbilly
6.lard
5.ollie
4.sheridan
3.batty
2.penglo
1.martyn
———————-
Teams and codes for Stick Cricket:
Canada (no code required)
Holland (martyn)
Namibia (pangio)
Bangladesh (batty)
Kenya (sheridan)
Zimbabwe (ollie)
West Indies (lard)
India (kingbilly)
Pakistan (weegordon)
New Zealand (sniffer)
Sri Lanka (meggiemoo)
South Africa (tilly)
Australia (bennyboy)
10-over slog for leaderboard (panda)
20-over slog (twenty)
50-over slog (fifty)
Spin bowling (spin)
Slow bowling (slow)
Fast bowling (bouncers)
Hard bowling (hard)
Random bowling (random)