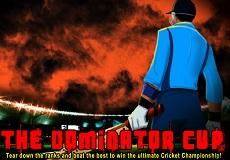 The anticipation is soaring, and the wait seems nearly unbearable! The moment has arrived when you can escalate your cricket gaming fascination and thrill to an entirely new dimension. Yes, engaging in 'The Dominator Cup' game assures an unmatched experience compared to any other free online cricket game. The ultimate goal to secure the coveted trophy is to defeat all competing teams in your group, making this one of the most exhilarating online sports games. Remember, success hinges on your patience and concentration in this novel cricket game.
Initiate this flash game by pressing the space bar, then brace yourself to strike the ball powerfully across the field. Your rival team has set a specific target for you. Your mission is to successfully chase this target within ten overs. A diverse array of teams awaits you, including Australia, South Africa, New Zealand, England, Pakistan, Sri Lanka, West Indies, Bangladesh, Zimbabwe, Ireland, Kenya, Holland, Scotland, and Bermuda. Pick your adversary and gear up to savour the genuine joy of playing cricket!
In this enthralling cricket game, the team at the bottom of the leaderboard will have the lowest scores. The genuine thrill of cricket commences as soon as you face the Australian team. With easy-to-use controls, appealing graphics, and excellent audio-visual effects, 'The Dominator Cup' stakes its claim as the top online sports game. Utilize the space bar to deliver the ball and the arrow keys to play shots from various positions in this 14-level online cricket game.