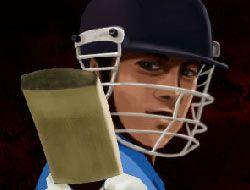 Embrace the boundless possibilities of the online cricket world for gaming enthusiasts! Among the plethora of options available, one stands out as the clear favorite – "Hit and Run." This cricket game is rapidly gaining popularity among both youngsters and adults alike. The rise of 20-20 games has spurred the interest of online cricket enthusiasts towards this fast-paced cricket format, and "Hit and Run" is now a well-known name in the virtual sports realm.
In this free online cricket game, you have the opportunity to experience the thrill of batting and scoring runs in the shortest time possible. It demands calculative skills and strategic thinking, making each batting session a riveting challenge. The game offers two engaging modes – "Challenger" and "Survival." In both modes, you will have five overs or 30 balls to showcase your cricket prowess and amass as many points as you can to secure victory in this exhilarating flash game. To emerge as a formidable player and clinch triumph, your target is to score more than 50 points.
For those seeking an even greater level of excitement, the "Challenger" mode features a knockout tournament. Engage in thrilling matches against five other international teams, defeating them one by one to advance to the final round. Prepare yourself to face a strong opponent in the ultimate showdown. If you bat first, aim to set an imposing score, while if you bat second, be ready to chase down the target left by your opponent.
Prepare to be enthralled by the immersive experience of "Hit and Run." It's time to step onto the virtual pitch, exhibit your batting prowess, and lead your team to victory! Are you up for the challenge? Play now and show the world what you've got!