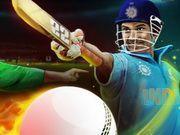 Every moment in India Vs Pakistan is brimming with exhilaration and delight. Participating in this free online cricket game, you'll fully embrace your cricket fantasy and passion. The thrill and entertainment derived from this game will resonate with you for a considerable time. Engage in this exceptional flash game and bring your true emotions to life!
At the outset of this novel cricket game, you'll be prompted to choose the type of tournament between close encounters and instant match. These tournament types differ in terms of gameplay. The toss holds significance in the instant play, where you as a player must partake in a 10-over match. Depending on the toss outcome, decide whether you'd prefer to bat or bowl first. Select the game according to the player's name and authentic playing style. Effective use of the space bar and arrow keys will enhance your flash game performance.
When bowling on the pitch, use the arrow keys to select from the off cutter, straight, and leg cutter. You'll notice a bar on the left side in three colors. Opting for the red bar signifies a no-ball. In batting, you're free to execute the appropriate shot using the arrow keys. We're confident that once you try this fresh flash game in your browser, you'll be compelled to replay it time and again. Have a blast and savour this top online sports game for everyone!